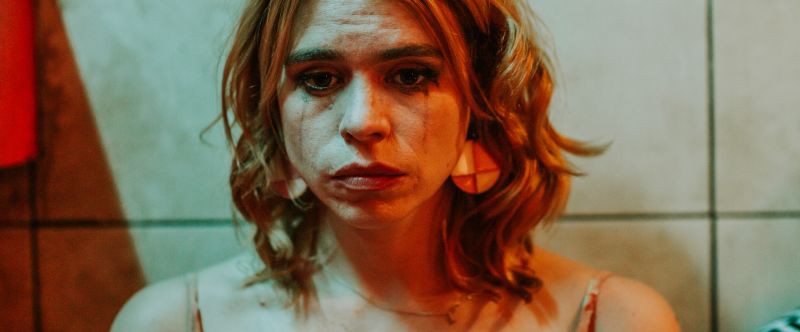 In nearly every tale of romance, there's a foil. You know, the nightmare date that provides the catalyst for the protagonist to realize that they're meant for bigger and better things. In When Harry Met Sally, it's the mythical guy who plucks a hair off Meg Ryan's head to floss with it at the table; in Gilmore Girls, it's Jackson's cousin Rune. But Rare Beasts, Billie Piper's directorial debut, doesn't have a foil — at least, not a traditional one. Instead of Mandy (Piper, who also wrote the script) leaving the insecure, vile Pete (Leo Bill) sitting across from her in a stylish London bar on the trash heap of bad choices, she leans in. She's in her early 30s, her son is a brat, her parents are dysfunctional, and she really just wants a man. Why not choose chaos? Yes, she will see him again. No, it probably will not go well.
Rare Beasts, which will play in select theaters and on demand August 20, is the film equivalent of a pressure cooker. Anxiety, fear, loathing, lust, hatred, love, and ambition are just some of the emotions swirling within Mandy as she navigates life as an adult woman in a world that keeps telling her to do more, want more, expect more. When she meets Pete , an obnoxious traditionalist who thinks the opposite, it's almost a relief. Maybe if she sets her bar a little lower, she can just let go. "My late 20s and my early 30s were a really challenging time," Piper told Refinery29 ahead of Rare Beast's trailer release. "I felt that there was this common female crisis — certainly amongst my peers — about this idea of 'you can have it all, you can be a working mother and a professional woman and have a social life.' All of those things in combination, I found to be incredibly stressful. That messaging was really overbearing and I saw lots of women around me being out of control, and I wanted to write about this in a raw, hopefully authentic way." It took Piper five years to finish the script, precisely because she was juggling raising two sons with a successful career as an actress and producer. Still, Rare Beasts marks her first time in the director's chair — and it wasn't an easy sell.
"It was a leap of faith,""People were like 'There are no likeable characters, everyone is really mean to each other, and it's really theatrical,' Piper said. "Fortunately for me, by the time it got picked up, it was in the wake of Phoebe Waller-Bridge and [other] really brilliant women talking honestly about what it costs to be a woman. The timing was crucial."
There certainly are some echoes of Fleabag in the trailer for Rare Beasts from the desolate characters to the almost upsettingly blunt dialogue. "When you meet the characters, they're all at the end of their rope," Piper said. "There's not a lot of optimism. But it felt familiar to me, and I hope that women will be able to go 'I do know what that feeling is, I do understand that anxiety, I do feel pulled and pushed in that way.'"
But there's something darker, and less hopeful at play here. Fewer hot priests, more nihilism. Rare Beasts feels like a fever dream of toxic masculinity, set to a fairy-tale score. (And yes, that is Lily James you spot dancing in a wedding dress — she and Piper are friends, and she was eager to lend her support.) Rare Beast joins Piper's long history of challenging taboos about women on screen, starting with the controversial cult hit The Secret Diary of A Call Girl, which she developed with frequent collaborator and Succession writer and producer Lucy Prebble. "That show got so critically panned in the UK," she said. "It was like, 'How dare you talk about a woman enjoying her job as a sex worker?' It didn't land then. But it's a very different time now — you can talk authentically about certain things." More recently, her and Prebbles' HBO Max series, I Hate Suzie, about an actress woman whose nudes are hacked and her life turned inside out, was nominated for 12 awards, and renewed for a second season.
With her pitch-black comedy, Piper hopes to confront the messiest aspects of modern womanhood, while also providing a safe space to process difficult feelings. "Wanting romance now is really challenging," she said. "[Rare Beasts] is about what I would consider the guinea pig generation of a woman making more money than a man. There's a huge guilt to being a working mother, and there's a lot of confusion around modern feminism — am I being a good enough feminist? Am I supporting the cause well enough? Pressure, pressure, pressure. It makes for something quite unhinged."
Watch the full trailer below:
RARE BEASTS TRAILER BILLIE PIPER DARK DATING COMEDY ORIGINALLY PUBLISHED ON JULY 22, 2021, 3:00 AM MOVIES • ENTERTAINMENT • MOVIE TRAILERS WRITTEN BY ANNE COHEN PHOTO: COURTESY OF BRAINSTORM MEDIA.